Powerful Integrations
Connect to over 500 solutions and services on one simple, easy to use platform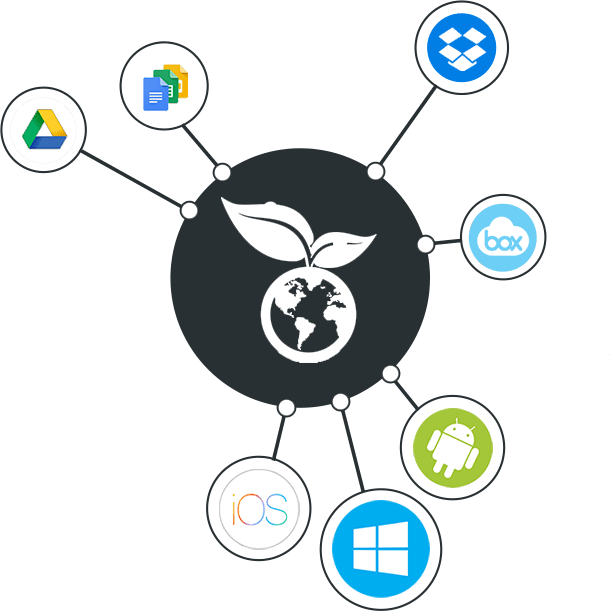 Anything you add to Dropbox will automatically show up on all your computers, phones and even the Dropbox website — so you can access your stuff from anywhere.

Android forms can easily sync with Google sheets, a web-based spreadsheet application that allows you to store and organize different types of information, much like Microsoft Excel.

Get access to Google Apps for work which includes Forms, Sites, Calendar, Docs, Sheets, Slides, Hangouts, Google+. It's your one-stop solution for team productivity.

Azure is Microsoft's cloud platform: a growing collection of integrated services that help you move faster, do more, and save money.

OneDrive is a file hosting service that allows users to upload and sync files to a cloud storage.

Microsoft SharePoint is a browser-based collaboration and document management platform.

Our REST connector opens up the ability to plug into almost any external service that exposes a REST API.

Box offers secure content management and collaboration for individuals, teams, and businesses, enabling secure file sharing and access to your files online.

Amazon Simple Storage Service provides developers and IT teams with secure, durable, highly-scalable object storage.

GeoOp is a mobile job management solution for businesses with mobile employees. It allows the office and field worker to share real-time job information.

A cloud communications company, allows software developers to enable phone calls and text messaging using its web service APIs.

This is a standard network protocol used to transfer computer files from one host to another over a TCP-based network.
Contact us today
and deploy your first applications in no time